Face and Fingerprint Access Control EPORDO BT-E9
Description
Face and Fingerprint Access Control EPORDO BT-E9
Face and Fingerprint Access Control EPORDO BT-E9:
Strong ability to adapt to the environment
Infrared high-definition camera, three-dimensional imaging. real
identification.Easy to deal with identification environment.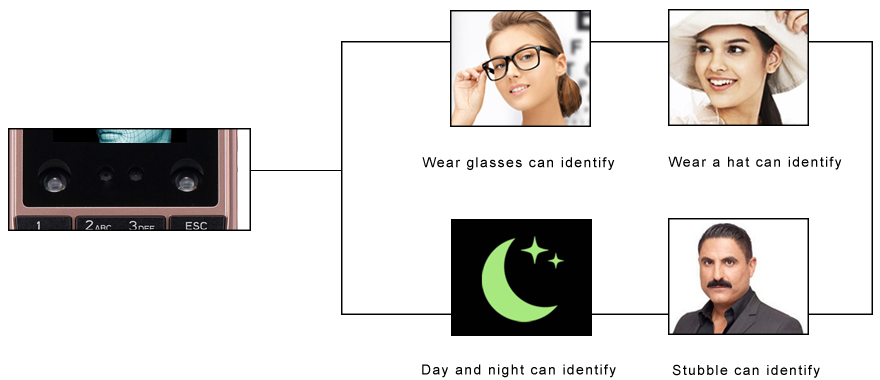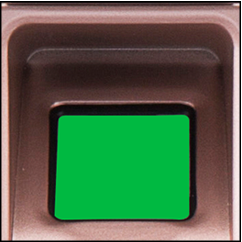 360°Fingerprint identification
Hd without remembrance fingerprint
acquisition area, supporting dry and
wet finger, 360° accurate identification.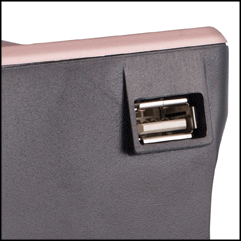 USB Disk upload and downloads
Support U disk download EXCEL attendance report,
operation is simple, No need to connect to the computer,
Single machines work independently convenient and quick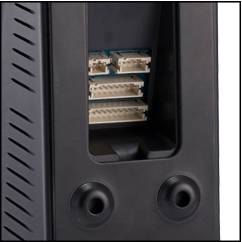 Face and Fingerprint Access Control Alarm function
Intimidation alarm, tamper alarm, forced
door-opening alarm, door-opening overtime
alarm, entrance point alarm.
Item
Description
LCD TFT displayer
2.8inch HD color screen
Facial capacity
300
Fingerprint capacity
3, 000
Storage capacity
200, 000
Card capacity
1000
Facial Recognition Speed
≤1 second
Fingerprint recognition speed
0.7s
Recognition ways
1:N,1:1
Alarm function
Intimidation alarm, temper alarm. forced door-opening point alarm.
Identification mode
facial. fingerprint. password
FAR
≤0.0001%
FRR
≤0.01%
Communication
USB2.0 exempt drive, TCP/IP, BS, Card
OS
Linux
Hardware Platform
Atmel 400MHz
Keyboard
4*4 keyboard
Master Chip
Atmel 9G25
Lock output
NO⁄NC
Use Distance
30-80cm
Door open button
Both normal button and wireless remote control
Power
DC5V
Applications
Office/factory/bank/hotel etc
Optional function
1. Fingerprint capacity:5000/10000
2. Facial capacity:1000/2000
3. WIFI
4. Wireless lock function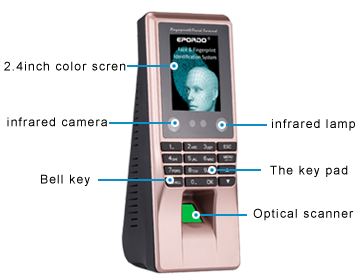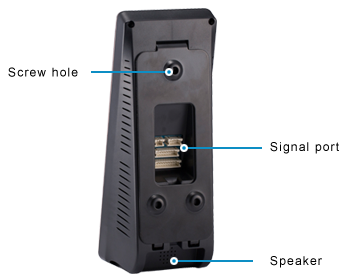 Face and Fingerprint Access Control Specs
Item
Description
LCD TFT displayer:
2.8inch HD color screen
Facial capacity
300
Fingerprint capacity
3000
Storage capacity
200, 000
Card capacity
1000
Response time
≤1 second
Facial Recognition Speed
≤1
Fingerprint recognition speed
0.7s
Recognition ways
1:N,1:1
Alarm function

Intimidation alarm, temper alarm.

forced door-opening point alarm.

Identification mode
facial. fingerprint. password
FAR
≤0.0001%
SD card
Optional
FAR
≤0.0001%
FAR
≤0.01%
Communication

USB2.0 exempt drive,TCP/IP,

BS, Card

OS
Linux
Hardware Platform
Atmel 400MHz
Keyboard
4*4 keyboard
Identification mode
face, password,
Master Chip
Atmel 9G25
Lock output
NO/NC
Use Distance
30-80cm
Door open button

Both normal button and wireless

remote control

Access control interface
Wiegand 26/34 optional, output/input optional
Power
DC5V
Applications
Office/factory/bank/hotel/school etc
Optional function

1. Fingerprint capacity:5000/10000

2. Facial capacity:1000/2000

3. WIFI

4. Wireless lock function
Also check: